The wake of Rape in the Fields, a multiplatform collaborative project by The Center for Investigative Reporting, the Investigative Reporting Program at UC Berkeley's Graduate School of Journalism, FRONTLINE and Univision, has had a far-reaching ripple effect – and in some cases built momentum into waves of change. It has been just over a year since the investigation, produced in Spanish and English, brought to light the widespread sexual harassment and rape of female agricultural workers. During that time, a new conversation has sprung up in public spaces across the country, especially in California.
Women's advocates, law enforcement officials and agricultural labor rights groups have used the project's documentary as a tool to spread information and create a space in which community members can share experiences normally kept behind closed doors. Earlier this year, the grassroots organizing resulted in California Sen. Bill Monning, D-Monterey, proposing a bill to hold agricultural labor contractors accountable for sexual harassment and rape among their employees and increase sexual harassment prevention training required for contractors.
We know all of this because in the past year, CIR reporter Bernice Yeung has used the CIR Outcome Tracker, a tool developed for our newsroom to log the impact from our work, to catalogue nearly 100 outcomes associated with Rape in the Fields.
According to the impact framework I've developed at CIR, there are three main types of outcomes:
Macro outcomes are structural changes, such as a new or changed law, regulation or court decision.
Meso outcomes occur at the level of society and are characterized by shifts in discourse, a reframing of an issue in the public debate or a change in public opinion.
Micro outcomes occur at the level of the individual, who, through exposure to media, has an increased level of knowledge or a change in attitude, opinion and/or behavior.
To better understand the process of impact flowing from our reporting, I used the outcomes data Yeung collected to determine whether there were discernable patterns. The graph below provides a visual representation of the quantity and type of outcomes that occurred (to the best of our knowledge) in the past year.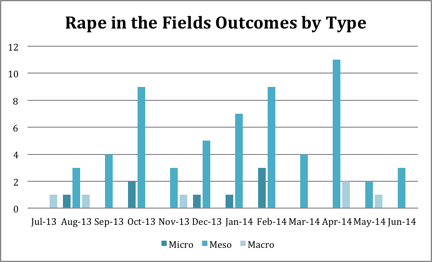 However, 100 data points is still a small number for quantitative analysis, which is why I took a deep dive into the data to make sense of it.1  Using qualitative research methods from social sciences, I conducted 20 interviews with people who had organized or otherwise been involved in community screenings of "Rape in the Fields." The full case study details the methodology and findings, but here are a few highlights:
Addressing key questions associated with impact at the beginning of the editorial process is key to catalyzing the impact process: What are the political opportunities for change or redress? Which actors have the motivation and capacity to initiate change? Who most needs the information we are uncovering, and what are the most effective media outlets for reaching that audience? What can an individual or community do after engaging with the stories?
The form a story takes – text, radio, video, etc. – is important not only in terms of which medium can most effectively and artfully convey information to an audience, but also in considering how the story might be used as a tool in a process of change.
The process of impact can be understood only by tracking outcomes over time, analyzing data and tailoring research methods to meet the needs of the specific case.
Through this case study, we have come to deeply understand how and why Rape in the Fields resulted in real-world change. With these lessons in mind, we're continuing to develop best practices for tracking and understanding the impact of our work to inform the editorial process for similar stories – from reporting to engagement and distribution and through follow-up to the story. 
A data set of 80 is quite small and not best analyzed using quantitative methods. Because the qualitative data collected by CIR includes only that which arrived at the organization, rather than a complete set of the entire universe of outcomes associated with Rape in the Fields, these data points cannot be assumed to be representative of the whole. Instead, qualitative methodologies, such as interviews, are more appropriate for contextualizing the data and understanding the causal mechanisms at work.
Download a PDF of the full case study here. Have questions, comments or feedback? Email Green-Barber at lgreenbarber@cironline.org.