SACRAMENTO, Calif. ­­– Legislators today fast-tracked an audit into why doctors under contract with the state sterilized nearly 150 female prison inmates from 2006 to 2010 without the required authorizations.
During a hearing at the State Capitol, members of the Joint Legislative Audit Committee unanimously approved the investigation into female sterilization and asked the California State Auditor's office to make the review its highest priority.
Assemblywoman Bonnie Lowenthal, D-Long Beach, and Sen. Hannah-Beth Jackson, D-Santa Barbara, of the California Legislative Women's Caucus requested the audit in response to an investigation by The Center for Investigative Reporting that found that nearly 250 inmates had received tubal ligations since 1997.
The women were signed up for the surgery while they were pregnant and housed at either the California Institution for Women in Corona or Valley State Prison for Women in Chowchilla, which is now a men's prison.
Former inmates and prisoner advocates maintain that prison medical staff coerced the women, targeting those deemed likely to return to prison in the future.
Tubal ligations have been restricted since 1994 to instances of medical necessity – and only when authorized by top state corrections officials. But a former medical official told CIR that prison medical staff considered the rule unfair and looked for ways around it.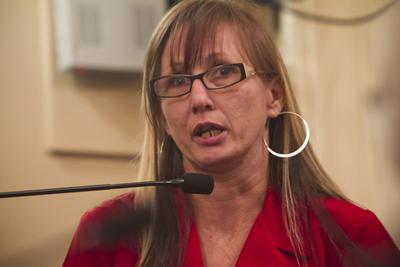 Jackson told the committee that the audit is intended to address a range of unanswered questions, especially in light of California's history of forced sterilization stretching from the early 1900s to the 1970s.
"For those of us who serve in state government, this is irrevocably unacceptable," Jackson said. "The fact that this is the 21st century and we have to ask our state auditor to see if women are being coercively sterilized is absolutely unconscionable and, frankly, revolting."
State Auditor Elaine Howle said the review would examine the roles, responsibilities, policies and past practices of the state prison system and its federal receivership. The receiver has overseen medical care in all 33 of the state's prisons since 2006, when U.S. District Judge Thelton Henderson of the Northern District of California ruled that inmate health care was so poor that it violated the constitutional ban on cruel and unusual punishment.
Auditors will examine each sterilization case from the last eight years to determine the demographics of each inmate, including economic status, ethnicity, race, number of prison terms, number of pregnancies and number of births.
The probe also will try to determine whether each inmate consented to the sterilization and, if so, how that consent was obtained. One former inmate told CIR that she was asked repeatedly to consent, including when she was on a gurney and under sedation. Nonetheless, she refused.
Howle said the goal is to learn whether certain inmates were targeted, as well as whether laws and rules were followed. She estimated the work would take seven to eight months and cost more than $380,000.
"We want to really understand the whole scenario," Howle told the committee.
Joyce Hayhoe, spokeswoman for the federal receivership, said her office supports the review and will assist auditors in their work. But Hayhoe questioned the scope of the investigation, saying it would be more appropriate to also include sterilizations that occurred before the 2006 federal takeover.
"We owe the state of California the reason why this happened," Hayhoe said. "We had a regulation in place (during the 1990s) and, for some reason, this regulation was not followed. I think it's really important to find out the answer to this question. We need the whole picture."
Hayhoe stated that the receivership stopped all sterilizations in 2010.
Some lawmakers, however, said the focus on the receivership is warranted.
The audit committee's chairman, Assemblyman Adam Gray, D-Merced, said it is more important to understand why the receivership allowed sterilizations in the first place.
Sen. Anthony Cannella, R-Modesto, questioned how doctors under the receivership's control could believe it was OK to sterilize inmates without permission.
"This whole thing is outrageous, and I think people have broken the law," Cannella said. "This audit should be step one in holding people accountable."
Cynthia Chandler, co-founder of the prisoner rights group Justice Now, told CIR that while her organization would support looking further into the past, federal officials must be held responsible for what happened under their stewardship.
Chandler's group received a written response from the receivership in 2008 acknowledging that the two prisons offered tubal ligations to women. But the office didn't act to stop sterilizations until 2010, after the Oakland-based organization filed a public records request and complained to the office of state Sen. Carol Liu, D-Glendale. Liu was the chairwoman of the Select Committee on Women and Children in the Criminal Justice System.
"I hope they go earlier than 2006, because the numbers of sterilizations tripled going into 2006. It's important to know who was pushing that thing," Chandler said. "But I also hope they don't scapegoat people in the 1990s as a way to escape accountability for the people holding offices now."
The committee meeting was the latest in a series of legislative responses to CIR's investigation. Earlier this month, leaders of the Senate's Public Safety Committee pledged to seek legislation to prevent sterilization abuses in prisons.
Sen. Loni Hancock, D-Oakland, chairwoman of the Public Safety Committee, said she hoped a new law would clarify state policy on prison sterilizations. No timetable or details have been announced, but committee members discussed possibly adopting federal standards that more clearly ban sterilization of inmates.
In July, Sen. Ted Lieu, D-Redondo Beach, requested a state Medical Board investigation of all of the physicians involved in sterilizing female inmates. Lieu asked the board to consider disciplining any medical officials found to have violated state laws or rules.
Chris Valine, public information analyst for the medical board, said the office received Lieu's request but couldn't comment further, citing confidentiality requirements. Lieu, however, said his office recently received confirmation that an investigation is underway.
This story was edited by Amy Pyle. It was copy edited by Pam Hogle and Nikki Frick.