There are 4,055 public housing agencies across the U.S., and we've spent the past year writing about one of the worst.
The federal government recently removed Richmond, California, from its worst-of-the-worst list, and we're wrapping up our coverage. The two events aren't related, but they make it a good time to take a look, by the numbers, at the troubles that plagued – and continue to plague – public housing in the city best known for its oil refineries and rancorous politics.
1 of the 44 worst in the country
Beginning in 2009, Richmond became part of the 1 percent of "failing" housing agencies, along with cities such as New Orleans and Detroit. The problems? It had a $7 million deficit, owed the feds $2.2 million for years of misspending money, and had serious management breakdowns. The problems stretched beyond the agency offices, as well.
Nearly 1 in 5 apartments at the two largest complexes were infested with insects and cockroaches.
Scores of elderly and disabled people lived in apartments overrun with mice, mold and cockroaches. We talked to one man who had raw sewage seeping into his home for weeks. After our stories came out, the housing agency inspected all of its apartments to document the problems. We created an interactive graphic so you can explore what inspectors saw at the largest housing project. Here was the worst unit: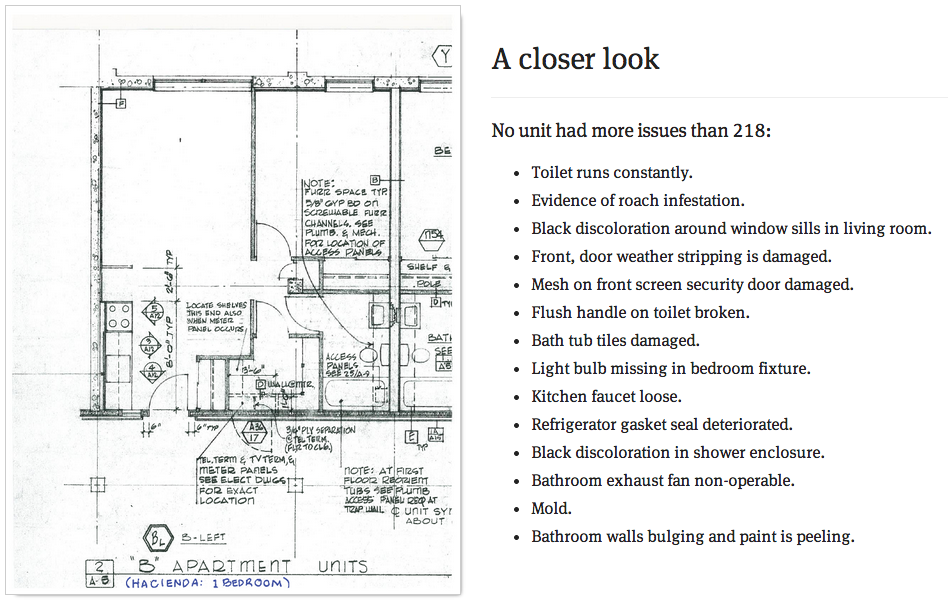 That's how long more than 100 senior and disabled residents have been living in the Hacienda housing complex since the Richmond agency's executive director said the place was uninhabitable.
The agency said it would evacuate residents ASAP but then realized it would cost $700,000 it didn't have. So officials are hoping the feds will pay for the relocation. Last month, the agency submitted an application to the U.S. Department of Housing and Urban Development asking for money to move everyone out so that a private developer can completely redo the building. It's unclear how long it will take for HUD to approve the funds, but in the meantime, the residents continue to live in a building that leaks and is filled with mold and vermin.
Here are local poets describing what it's like to live in Hacienda:
$417.34 and $279.90 business meals
Tim Jones, the housing agency's executive director, charged taxpayers for expensive business meals for himself and colleagues while he was traveling in New York City and Washington, D.C., as the agency was going broke. Closer to home, he took his staff to pricey lunches and charged taxpayers for meals that violated city rules.
1 improper pizza party
Leaders frequently ignored policies meant to ensure employees followed the rules, leading to abuses. The former deputy director of the agency got caught illegally steering $61,000 of contracts to his brother. When he retired two years later, Richmond improperly paid for his going-away pizza party. The executive director approved all his own credit card payments with no outside oversight. The finance manager used the agency credit card to buy personal meals and fill up his car with gas.
6 hours of overtime for locking and unlocking one door
Maintenance workers were abusing the overtime system and being paid overtime for completing jobs during their normal work hours. In some cases, they were charging triple the number of hours for one hour of overtime work, exploiting a union loophole that often shouldn't have applied. The workers, one of whom was the nephew of a top official, were also double-billing the agency for completing the same job at the same time, and racking up thousands of dollars in the process. Their bosses signed off on all of it. One worker, Jeffery Likely, was later fired and his aunt, Kathleen Jones, moved to Florida after being placed on leave.
$340,000 to a company affiliated with housing official's husband
Debra Holter, the head of the housing authority's maintenance department, steered $78,000 in contracts to a maintenance company that her husband worked for in an off-the-books arrangement. In total, Strongbuilt Construction received more than $340,000 in contracts from the housing agency, and much of that work was completed by Holter's husband. (He told us that he was never paid for his work.) Here is an example where Holter's husband, Sidney, left a note for a resident, claiming he was part of the maintenance department:
167 missing stoves and refrigerators
More than a quarter of the new appliances at the housing agency are missing. The stoves and fridges were bought and delivered to the agency, and then $53,000 worth of merchandise disappeared. In some cases, the agency claimed residents were getting new appliances to replace their old ones – but years later, the old appliances were still there and the new ones were missing. Debra Holter was in charge of all the inventory, and she had a history of selling appliances out of her home garage.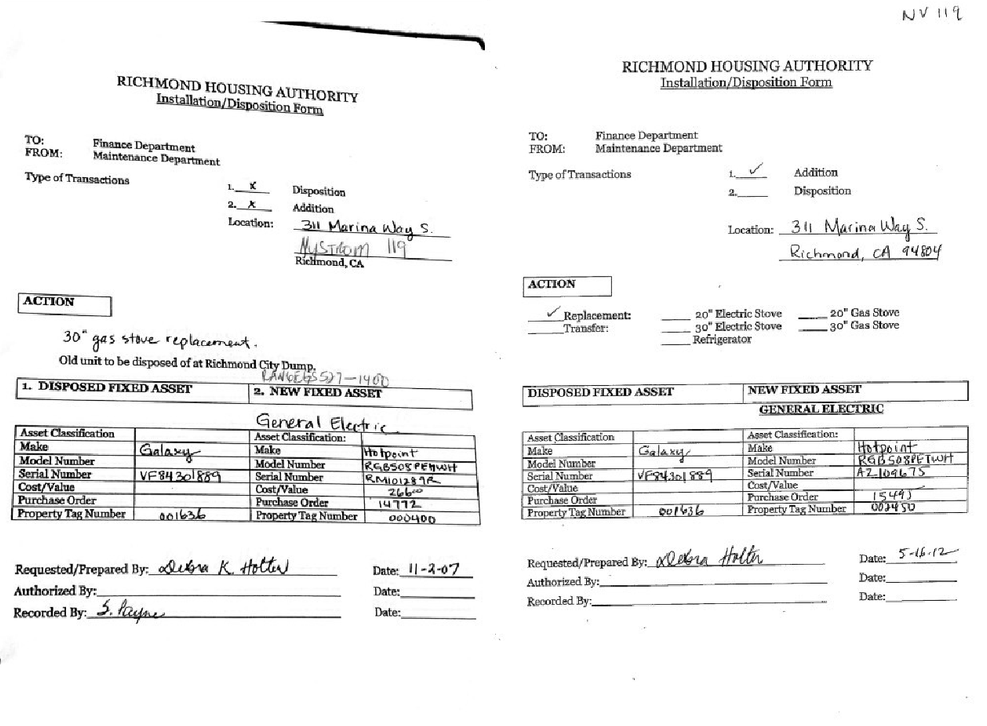 2 police probes, 1 grand jury investigation
The Richmond Police Department is investigating Debra Holter for her role in giving contracts to a vendor affiliated with her husband. It's also looking into what happened to all those appliances. And the Contra Costa County civil grand jury is examining the housing agency and reviewing resident complaints.
Several employees have been fired, left the agency, or been put on leave as a result of the revelations in our stories. But the top leadership still is largely intact. The housing authority's finance manager who abused the credit cards and bought himself personal meals and gas? He's still there. And the housing authority's top man, Tim Jones, is still running the agency, despite calls from community members that he should be fired. His boss, Richmond's city manager, says he stands by Jones' leadership.
This story was edited by Andrew Donohue and copy edited by Sheela Kamath.
Amy Julia Harris can be reached at aharris@revealnews.org. Follow her on Twitter: @amyjharris.